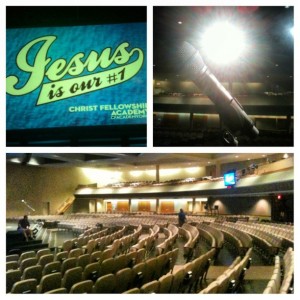 It's hard to believe that 12 years ago I started coming to Christ Fellowship as a guest speaker for their Spiritual Emphasis Week. And I have been invited back for all these years since then except for one when there was some transition within the school and church. Over those years I have seen some great kids, teachers and staff at Christ Fellowship. I sincerely appreciate all the people there and have such fond memories of being on their stage performing and leading everyone in worship.
This year was no exception to adding to the wonderful memories. What a privilege it was to be asked back again by "popular demand" to kick off the school year in Vision 2 Hear fashion! Joined by Trevor Jenkins from Conyers, GA and various members of the Miami WAVE Team, we were able to lead in worship and help set the tone for the entire school year. Using songs like the never old Lawnmower Dance to more recent classics like Monster, the kids were hyped with energy. But nothing can match hearing the voices of a couple hundred kids singing This Little Light Of Mine and How He Loves or No One Like You.
The week went by fast and I can't believe it's already over! I'm really thankful for another year at Christ Fellowship and y desire is that this year they will all allow Christ to be their Number 1!